Best Ever Texas Sheet Cake is a Southern favorite dessert and always a crowd pleaser! Made from scratch and easy to whip up, this soft cake is extra moist and absolutely irresistible when topped with a silky chocolate frosting.
This classic dessert is especially ideal for feeding big crowds which makes it perfect for taking to a party or large get together just like some of our other party favorites like Honey Garlic Meatballs and perfect for fall, Sweet and Spicy Chili.
Why is Texas Sheet Cake so good?
Maybe it's the thin layer of chocolate cake covered in homemade fudge-like frosting. Or possibly it's because when this cake is served warm, the frosting practically melts in your mouth? Well, whatever it is, get your fork ready because this one is hard not to eat right out of the pan!
In fact this cake has quite the history and chances are, you've enjoyed it one way or another before. A dessert this good is simple to serve and even easier to fall in love with.
What makes Texas Sheet Cake Different?
In a traditional cake all the ingredients are mixed in a bowl and poured into a pan for baking. Texas Sheet cake requires several of the ingredients in both the cake batter and frosting, to be heated on the stove and then added to a bowl of dry ingredients. Yes, this does add a few steps, but I promise it will all be worth it.
What is the size of a sheet cake pan?
Sheet cakes are traditionally made using an 18x13 inch pan and even served straight from the pan. (It can however be baked in smaller pans like a 9x13" if baking time is increased.) Part of what makes sheet cakes so appealing though is that by using an 18x13" or jelly roll pan you can get a thinner cake which makes it almost equal parts cake to frosting!
And a bigger pan equals more slices, making it perfect for bringing to large gatherings. Plus, a thinner cake means it will cook a bit faster than a traditional cake. And because sheet cake is frosted while still warm you get to spend less time in the kitchen! Sounds like even more reasons to love this recipe!
If you are in love with how easy this delicious sheet cake is you need to give Pumpkin Spice Chocolate Chip Cookies a try. They only take 10 minutes from start to finish to make! And if you are on the hunt for another impressive sweet treat to serve to a large crowd then check out this beautiful layered Strawberry Shortcake Cake. This scrumptious cake is a total show stopper!
Make it Your Own
Don't be afraid to change it up or customize this classic recipe to your liking. By swapping just a few ingredients you can get even more fun flavor varieties.
Turtle Cake - Top your frosted cake with drizzled caramel sauce to the top. Add chopped, toasted pecans and mini chocolate chips for a perfect turtle twist.
Mexican Cake - Swap the cocoa powder for Dark Cocoa Powder throughout the recipe. Then add a teaspoon of cinnamon and cayenne to the cake batter and ½ a teaspoon of each to the frosting.
White Cake - Remove the cocoa powder from the cake batter and frosting. Add 1 teaspoon of almond or vanilla extract in its place in the batter and frosting instead.
Lemon Cake - Remove the cocoa powder from the cake batter and frosting. For a bright lemony flavor add ¼ cup of juice and zest from one lemon.
Peanut Butter Cake - Swap out the cocoa powder for ⅓ cup creamy peanut butter in both the batter and frosting.
Our newest addition, baby Violet approves of any, and all of these variations of Best Ever Texas Sheet Cake. She knows you won't be disappointed with whatever you decide.
How do you serve Texas Sheet Cake - Hot or Cold?
Honestly, this is a treat that is delicious served warm, at room temperature or cold. The more important key though when putting your cake together is that you prepare the frosting after the cake comes out of the oven. Both the cake and frosting need to be warm when layered. This way the frosting melts into the cake a little bit making every bite irresistibly moist.
Work quickly if you want that glossy topped look, because once it cools the frosting will crack. To help prevent cracking frosting should be warm when poured over the cake.
Pro Chef – Mom Hacks
Lightly poke the cake while still warm with a fork so when you pour the chocolate fudge-like frosting over the top it soaks into the cake just a bit. After you've poured the frosting over the top, lightly and carefully drop the pan on the counter to help the frosting fall into and fill the holes. This little trick will ensure every single bite is perfectly tender and moist!
Can you make Texas Sheet Cake for Two?
Craving this delicious chocolate lover's treat but don't need 24 slices of cake? If you are afraid a full sheet cake may be too much, have no fear. Scale the recipe back accordingly and enjoy cake for six or twelve instead! Here are some helpful tips to getting you started.
Quarter Sheet Cake - Cut the recipe in half using a 12x10" baking pan and bake for 15-18 minutes. (12 servings)
Small Batch Sheet Cake - Cut the recipe to a quarter using a 9x7" baking pan and bake for 13-15 minutes. (6 servings)
📖 Recipe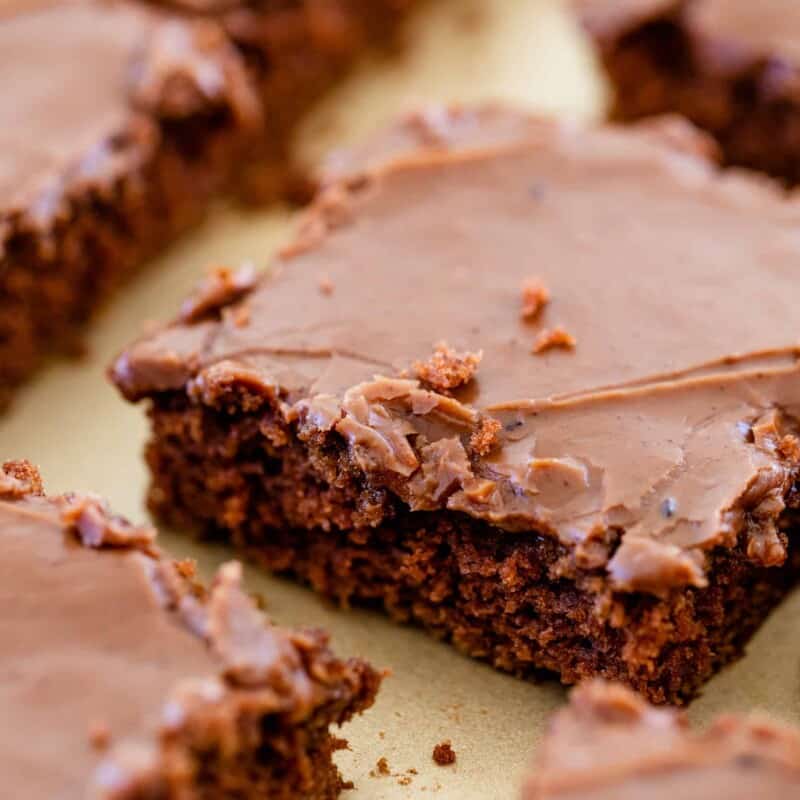 Texas Sheet Cake
Additional Time:
10 minutes
Made from scratch, extra moist and totally irresistible, Best Ever Texas Sheet Cake is a soft chocolate sponge topped with a silky frosting.
Ingredients
Cake
2 cups flour
2 cups sugar
1 cup water
1 cup salted butter
4 tablespoons cocoa powder
½ cup milk
1 teaspoon baking soda
2 whole eggs
2 egg yolks 
1 teaspoon vanilla
Frosting
1 cup butter
⅔ cup evaporated milk
4 tablespoons cocoa powder
1 cup sugar
1 teaspoon vanilla
3 cups powdered sugar
Instructions
Preheat oven to 350° and lightly spray a In a mixing bowl combine flour and sugar.
In a pot on the stove add water, cocoa powder and butter. Heat till butter is melted, then allow to boil for 30 seconds.
Remove mixture from stove and add to dry ingredients.
In small bowl stir together baking soda and milk. Add mixture to the larger mixing bowl.
In empty, smaller bowl beat together whole eggs and yolks. Add mixture to the larger mixing bowl along with vanilla and stir gently to combine.
Pour batter into sheet cake pan and place in oven to bake for 25 minutes.
While cake is baking prepare the frosting in the last 5 minutes. Add butter and evaporated milk to a pot on the stove. Allow to come to a boil, stirring occasionally. Add cocoa powder and sugar to the milk mixture, stir together and heat until boiling.
Pour chocolate sauce into a mixing bowl. Add vanilla and powdered sugar to bowl and mix together.
If wanting an extra moist cake poke small holes over the top with a fork. Pour warm frosting over the hot cake and spread out evenly over the top before it cools.
Carefully pick up sheet pan and drop lightly on counter to help frosting fall into the holes on top of the cake. Cut into slices and enjoy.
Notes
Add vanilla after removing batter and frosting from heat. Boiling vanilla will cook off some of the flavor.
You do not want to prepare the frosting too soon, both frosting and cake need to be warm when cake is assembled.
Store in air tight container for 2-3 days.
Nutrition Information:
Yield:

24
Serving Size:

1
Amount Per Serving:
Calories:

354
Total Fat:

17g
Saturated Fat:

10g
Trans Fat:

1g
Unsaturated Fat:

5g
Cholesterol:

74mg
Sodium:

192mg
Carbohydrates:

49g
Fiber:

1g
Sugar:

39g
Protein:

3g
How do you store a Texas Sheet Cake overnight?
And if you do find yourself with leftovers, because let's be honest who doesn't love eating cake the next morning or day after, you can store extra slices of cake in an airtight container for 2-3 days.