These rich, fudgy, ooey-gooey, sweet – slightly salty brownies are balanced bites of perfection. Nothing is more heavenly than a decadent chocolatey brownie with a gooey caramel center. German Chocolate Caramel Brownies are sure to knock your socks off.
How to serve German Chocolate Caramel Brownies
In need of a quick, fool-proof dessert that anyone can make? This German Chocolate Caramel Brownie is sure to do the trick! With just 5 ingredients this recipe is ideal for bringing along to that next potluck or picnic.
Whether you are here in search of a little something to finally satisfy and temporarily silence that relentless sweet tooth. This family favorite recipe is simple enough it can be your go to for whipping up a treat for an early morning bake sale or sending a little extra sunshine to a struggling friend or neighbor.
The Best Dessert Bars and Treats
You can never go wrong with tried and true favorite desserts like Fudgy Chocolate Bar Brownies, Scotcheroo bars, Baked Oatmeal bars, or Texas Sheet cake.
Unbelievably easy to prepare, this to die for decadent treat is DANGEROUS! It would be soooo easy to devour the whole pan hot out of the oven. I mean there is just something about a sweet AND salty treat that leaves everyone wanting to come back for more.
Usually it is hard being the star of the show, but these puppies wear that crown with pride. These rich, decadent bars are always a big hit with every crowd. Starting with just a cake mix these brownies are filled with magic that leaves everyone thinking they are a gourmet bakery style brownie.
What do you need for the best Brownies?
Cake Mix
Don't fret, there is nothing "boxey" about this cake mix brownie. Give these brownie bars a try and you be the judge!
German Chocolate cake mix gives these brownies just the right amount of chocolatey yumminess. You can switch it up and use a Devil's Food or Red Velvet cake mixes for a richer, more chocolatey flavor.
Caramel Sauce
Trust me, put in the extra effort. This caramel sauce doesn't take long to whip up and it is sooo much better than any pre-made caramel sauce you will find in the store. The jarred stuff won't set up the same and will be too runny for brownie bars.
Line the Pan
Make life easier for yourself and whoever might be doing the dishes, line your pan with parchment paper. These brownies will pop out so much smoother and help keep them beautiful for serving.
Layering it Up
How delicious do these look!? I mean it is almost unfair how delicious these bars come out of the oven looking. As hard as it will be, you've got to let these cool completely. If you want to speed it up you can place them in the fridge for 30 minutes though. Once they are cooled and set they will be so, so much easier to slice.
Serving and Storing
When storing any leftover brownies you can keep them on the counter in an airtight container as long as the house isn't too warm. If the house is warm you'll want to wrap and store them in the fridge to keep the caramel from getting too soft. Brownies can be stored this way for up to a week. Or wrap tightly and store in the freezer for up to 4 months.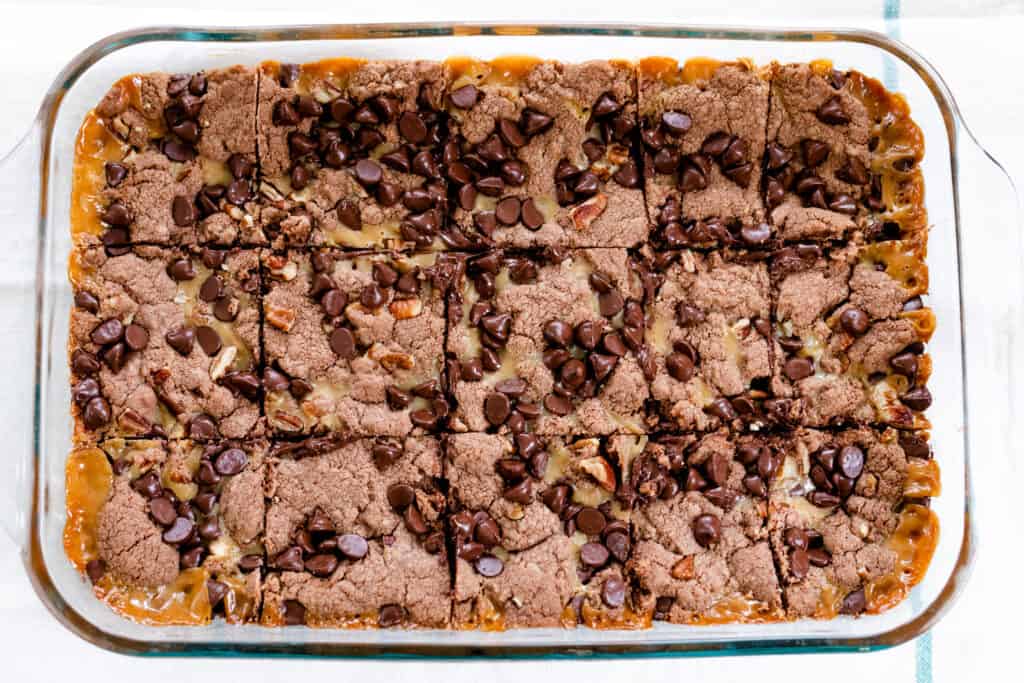 Make It Your Own
I know, I know it is hard to believe that these brownies could get any better but there is always room for improvement right? If looking to balance that sweet goodness sprinkle the top with sea salt.
Turn your brownies into a true German Chocolate treat and sprinkle that caramel layer of goodness generously with shaved coconut and toasted pecans. Such an easy and delicious way to take these bad boys to the next level!
German Chocolate Caramel Brownies
Decadent, chocolatey brownie layers with a gooey caramel center make these sweet – slightly salty brownies balanced bites of perfection.
Ingredients
Brownie Layer
1 package german chocolate cake mix
¾ cup butter, melted
⅓ cup condensed milk
1 cup chopped pecans,  optional
1 cup chocolate chips
Caramel Layer
60 caramel squares
½ cup condensed milk
Instructions
Preheat oven to 350° and grease a 13x9 baking dish or line with parchement paper. Set pan aside.
In a bowl combine the cake mix, melted butter, condensed milk and nuts.
Divide the brownie dough in half. Press half of the dough into the greased pan. Set other half of dough aside.
Place the pan into the oven and bake the bottom layer of brownie for 10 minutes.
While baking prepare the caramel sauce. In a microwave safe bowl add unwrapped caramels and condensed milk. Slowly melt caramels in the microwave, stirring every 30 seconds until caramels are just melted.
Remove pan from oven and pour caramel sauce over hot brownie layer. Crumble remaining brownie dough over the caramel layer. Sprinkle the chocolate chips over the top and place pan in oven. Bake for 15-18 minutes.
Once cooled to the touch place pan in the fridge for roughly 30 minutes to allow caramel to set before cutting into bars.
Nutrition Information:
Yield:

24
Serving Size:

1
Amount Per Serving:
Calories:

670
Total Fat:

45g
Saturated Fat:

26g
Trans Fat:

1g
Unsaturated Fat:

16g
Cholesterol:

88mg
Sodium:

279mg
Carbohydrates:

68g
Fiber:

3g
Sugar:

52g
Protein:

6g