These delicious Chicken Crescent Roll Ups are the perfect, easy dinner recipe you need this week. Cream cheese, shredded chicken, green onions wrapped in a flaky crescent roll makes these a REAL family favorite.
I have heard this dish go by many a name, including Chicken Pillows, Crescent Chicken Squares, Chicken Bundles, or Chicken Crescent Bombs. Whatever you prefer to call it, this dish is delicious and oh so flavorful. What makes them even more appealing is that they are an easy 30 to 40 minute meal from start to finish, but taste like a 60 minute meal!
What is the Easiest Way to Cook Chicken?
It is no secret preparing meat is one of my least favorite things to do in the kitchen. One of the ways I work around this is by pre-cooking chicken in large batches via crockpot or instant pot. It is one of those great Pro Chef - Mom Hacks that makes my life soooo much easier. With this method I can knock out the meat for 3 or 4 meals in one cooking session and who wouldn't want that!?
So what I do is mass cook the meat with a fairly hands off approach letting my kitchen friends (the crockpot or Instant Pot) do all the work for me, then I clean and shred the meat and divide it into ziplock bags with just the right amount of meat for a meal down the road. Making dinner is so much easier when you don't have to prepare, cook and clean the meat in addition to getting a recipe all put together.
What is best way to shred chicken?
Does that mean I have to hand shred all that meat at once? Sounds like Torture. No. I wouldn't do you dirty like that. I got you.
Want to know the fastest and quickest way to shred mass amounts of chicken? I'm talking like in minutes ... well let me introduce you to your new favorite Pro Chef - Mom Hack.
You will be mad you didn't learn this sooner. You can shred any kind of meat with the help of a hand mixer or Kitchen Aid effortlessly. That's right. You read that correctly.
For all the juicy details and fantastic video footage go over and check out just how to do it here.
Quick and Easy Weeknight Dinner
Nothing is worse than telling a hangry mob when dinner will be ready ... am I right? It is never fast enough. Need dinner on the table like five minutes ago but don't have any cooked chicken? No worries. In a pinch you can definitely use canned chicken or cut up rotisserie chicken.
I'd be lying if I said I haven't used either with this recipe before. Both work flawlessly for making this meal go even quicker!
Can I use canned chicken?
Now if you are anything like I was you may be thinking, Really ... canned chicken? But hear me out, I was skeptical too, but I have learned that canned chicken really is a great alternative when you need dinner on the table quick.
Our favorite brand of canned chicken is Kirkland Signature Chicken Breast. If you don't have a Costco membership I would suggest using Hormel Premium Chunk Chicken. I hate to say it but when it comes to canned meat I am a bit of a brand snob.
So take my suggestion here with a grain of salt. Once you have opened your cans make sure you rinse the chicken thoroughly. I like to rinse it two or three times after opening and draining to wash off the extra salt and brine.
Another recipe I like to use Kirkland canned chicken in is our quick and simple Chicken Salad recipe. Works like a charm every time!
Rotisserie Chicken
Rotisserie Chickens are one of my favorite things to grab when we are at the grocery store and I don't have plans for dinner yet. There are just so many possibilities and options when you have a rotisserie chicken on hand.
We find the best Rotisserie Chickens come from Costco as well. In fact, Costco is famous for its large rotisserie chickens at only $4.99. I mean in 2018 they sold over 91 million chickens alone!
But with their large size, and great flavor it is no wonder they are so popular - a hot, delicious and easy dinner with a price tag you just can't beat!
Pro Chef - Mom Hack
I know I've already thrown a handful of new hacks at you but I'd be foolish if I didn't share one more.
Double the recipe while you are putting in the work anyways and freeze your leftover chicken mixture for a quick thaw and meal in mere minutes for a night down the road when you need an extra set of hands.
Make it Your Own
Maybe you've tried this meal before and are looking for a way to spice things up a bit. A great way to give this tried and true recipe a revamp is taking the liberty to play with the recipe a bit.
You could very easily add an Italian dressing mix or a ranch seasoning mix to the mixture for an extra punch of flavor. Another easy substitution that makes for a big impact is subbing the cream cheese in the recipe for flavored chive and onion cream cheese.
The best meals are Customizable. Add any of the following to your chicken mixture for a totally customizable meal. I would suggest limiting your extras to one or two add ins for the right creamy chicken ratio.
Chopped spinach (¾ cup)
Chopped broccoli (½ cup)
Diced Green chilis (1 small can)
Diced Jalapeños (¼ cup)
Frozen Peas (¼ cup)
Bacon Crumbles (¼ - ½ cup)
Mozzarella, Cheddar, or Parmesan (1 cup)
Celery gives texture and a little crunch (½ cup)
Diced Bell Pepper (½ cup)
Sliced Mushrooms (¾ cup)
Sautéed Onions (1 cup)
How do you roll a crescent?
After separating your dough into the pre-cut triangles you will want to spoon roughly ¼ cup of the mixture on to the triangle. Fold the left side in, right side in, and then roll your bundle towards the long point and place on a baking sheet for the next step.
At this point you can go one of two routes. You can choose to lightly bread your crescents or instead for a more flaky crust use a whisked egg to brush each one before baking. These of course are both optional and you could always leave them naked with no finishing touches.
Is this good served as leftovers?
If you are a fan of leftovers I will say, these are super good re-heated or even cold the next day. Double the batch and give it a try! Serve it up alongside hot Cheesy Funeral Potatoes or these simple Instant Pot Mashed Potatoes for an entirely new meal! Also delicious with these Chicken Crescent Roll Ups and a lighter option for pairing is our Citrus Cranberry Salad with homemade Poppy Seed Dressing!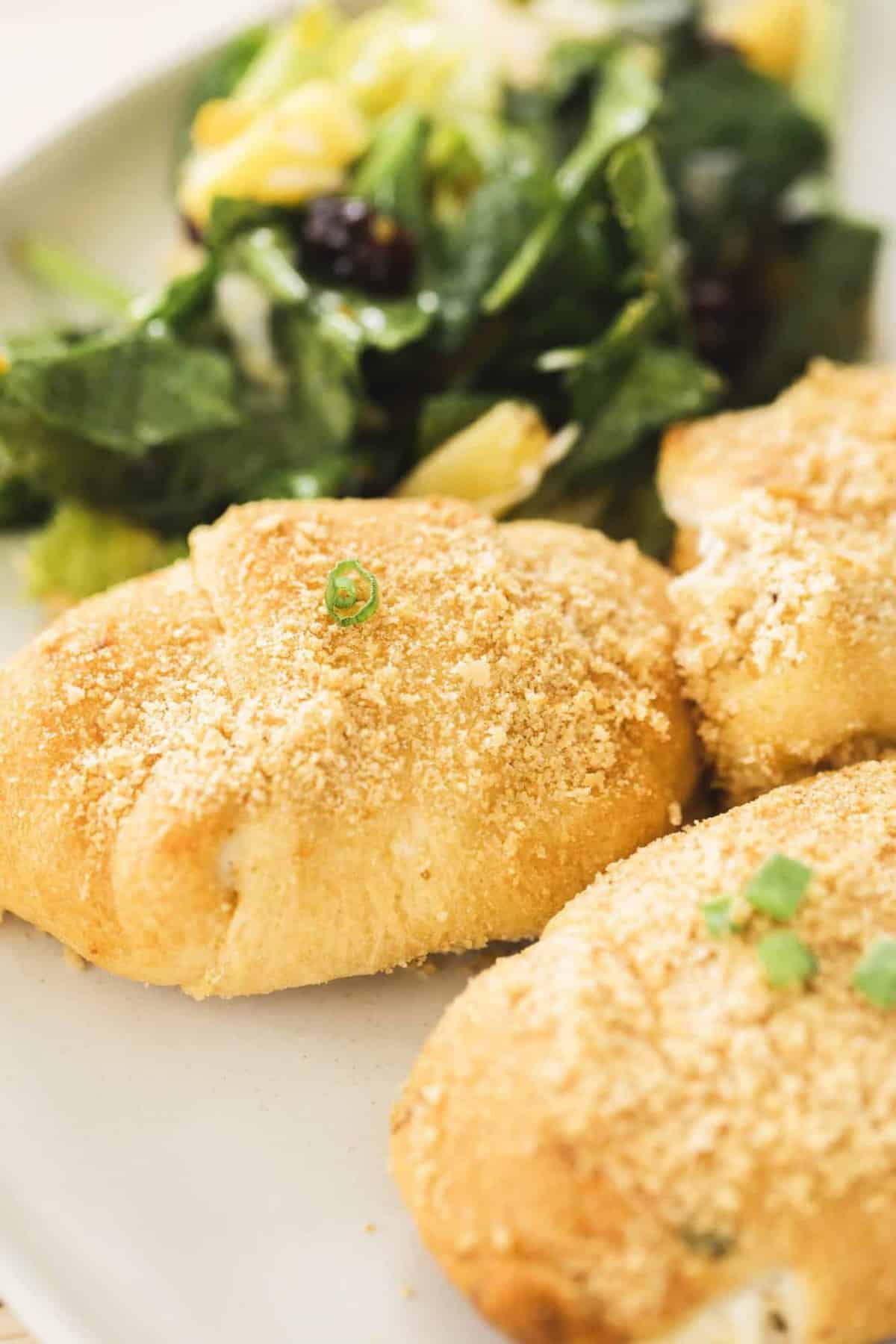 Chicken Crescent Roll Ups
Cream cheese, shredded chicken and green onions wrapped in flaky crescent make these Chicken Crescent Roll Ups perfect for dinner, served as appetizers or your next party food!
Ingredients
8 ounces cream cheese
2 tablespoons green onion 
4 tablespoons melted butter
4 cups shredded chicken
½ teaspoon salt
¼ teaspoon pepper
5 tablespoons milk
2 cans crescent roll dough
Topping for Crescents
2 tablespoons melted butter
½ cup traditional bread crumbs
¼ cup parmesan
Instructions
Preheat oven to 350°.
In bowl blend cream cheese and melted butter.
Add chicken, salt, pepper, milk and green onions and mix well.
Seperate crescent dough into individual triangles as marked.
Spoon roughly ¼ cup of the mixture near the base of the triangle and roll crescent up in the traditional crescent shape, pinching any open edges closed.
In small bowl combine parmesean and bread crumbs to create topping mixture.
Brush each roll up lightly with melted butter and sprinkle with topping mixture.
Place crescents in a lightly greased 13x9 casserole dish or on a baking sheet.
Let bake in the oven till golden brown, for 25-30 minutes.
Serve hot alongside a favorite cream sauce or chicken gravy.
Notes
For variety try adding sliced mushrooms and/or sauted onions to the mixture.
Swap out the plain cream cheese for chive and onion cream cheese for a little stronger flavor profile.
Be sure to check the bottom of the chicken roll ups to be sure they don't burn.
Nutrition Information:
Yield:

16
Serving Size:

1
Amount Per Serving:
Calories:

331
Total Fat:

21g
Saturated Fat:

11g
Trans Fat:

0g
Unsaturated Fat:

8g
Cholesterol:

69mg
Sodium:

400mg
Carbohydrates:

22g
Fiber:

1g
Sugar:

4g
Protein:

13g