Creamy, smooth and filling this Mixed Berry Pineapple Smoothie has it all! Perfectly balanced, with all the right amounts of sweetness and tart these fruits blend together so well. Bursting with flavor all you need is three ingredients and five quick minutes to pull this drink together.
This Mixed Berry Pineapple Smoothie is just a super fast and super easy drink to make. It's one my kids absolutely love. There is no fighting anyone to drink up this rich and nutrient packed drink!
In fact, it's been a really great smoothie for Violet, our one year old. Our Berry Pineapple Smoothie is a sweeter drink with a lighter texture, which makes it easy for her to suck through a straw.
As can be seen, we really love smoothies at our house. We could drink them, all day every day. Seriously. If you are like us these are some of the other ones on a constant rotation at our house you need to give a try.
Especially our Watermelon Chia, Orange Mango, and Tropical Green smoothies, as well as our Peanut Butter Mocha shake. From peanut butter and chocolate to filling, fruity and tropical there is a drink for everyone!
Jump to:
🥘 Ingredients
With just three ingredients it is easy to pull this Mixed Berry Pineapple Smoothie together for an easy breakfast, snack or tasty cool drink. Undeniably this recipe is proof that it doesn't take a long list of ingredients to create a delicious treat.
Frozen Berry Medley - You can use any berry medley. We usually use a bag with raspberries, blueberries, strawberries and blackberries.
Vanilla Yogurt
Pineapple Juice - We love to have cans individual cans pineapple juice on hand for making smoothies. Super easy to keep on hand and have in the pantry.
🍳 Step-by-Step Instructions
Firstly add your frozen berries to the blender. Then pour the pineapple juice over the top of the berries and add in the vanilla yogurt.
Next, blend all the ingredients together until your desired smoothie consistency is reached. Finally, transfer your Berry Pineapple smoothie into cups or tumblers and enjoy!
👩🏻‍🍳 Make it Your Own
Smoothies are hands down one of the easiest things to completely take control of and make your own. One of our favorite things to do with this Mixed Berry Pineapple Smoothie in particular is substitute the yogurt for greek yogurt.
Greek Yogurt - Our favorite brand and go to for greek yogurt is the "Two Good" brand. It's great to use as it has way less sugar than your traditional yogurt, and is a great way to add extra protein. And have no worries - this smoothie will not be lacking in the sweet department. Your berries and pineapple will keep this drink sweet and delicious!
Yogurt Flavor - Another fun way to get creative with your smoothie is playing around with your yogurt flavor. Switch up vanilla for an extra kick of blueberry or strawberry!
Different Fruits - It can also be really fun to substitute a cup of the berry medley for other frozen fruits. You can totally try swapping a cup of berries for peaches, banana or mango chunks. We have also made this smoothie with spinach!! But it's fun sometimes to leave out the greens and just enjoy a smoothie with bold fruit flavors.
💭 Top Tips for Storing
We love drinking our Mixed Berry Pineapple Smoothie from these tumbler cups. They are by far our families favorite cup to enjoy smoothies from! I especially love that I can make smoothies in the morning and take it with us on our day's adventures.
Tumblers just make it so easy to take our favorite smoothies with us when we go to the park, splash pad or children's museum. And the insulated mug helps to keep our smoothies from melting and turning watery.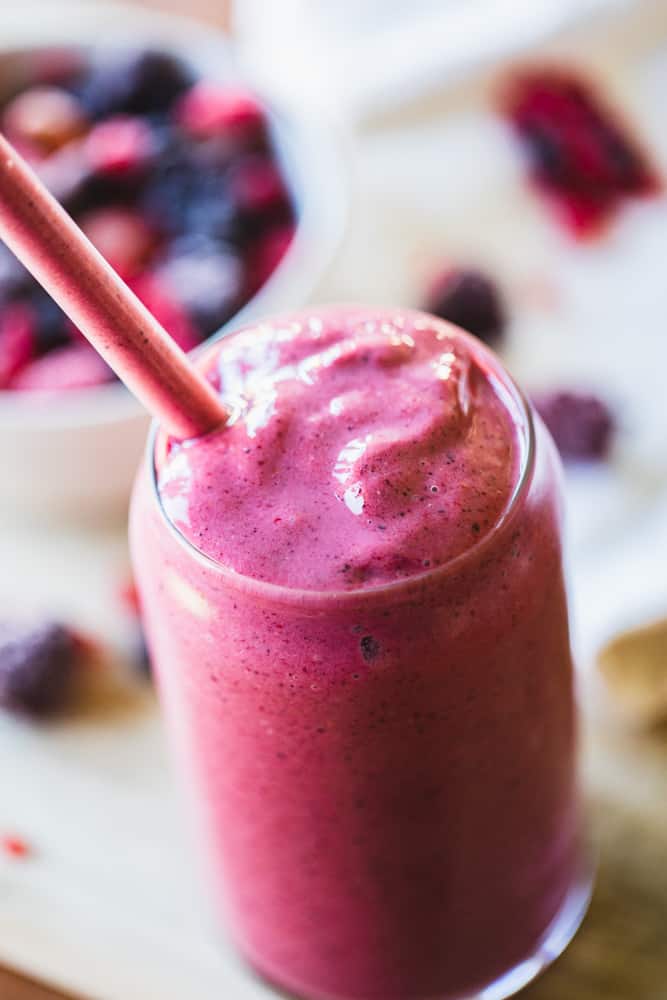 In fact, having the option to take smoothies like this Berry Pineapple Smoothie, on the go with us has been a huge help in cutting back on pre-packaged "snacks" like chips and crackers. Tumblers like this Reduce Mug give us an easy fresh, nutrient packed option for on the go.
📖 Recipe
Pineapple Berry Smoothie
Creamy, smooth and filling this smoothie has it all! Perfectly balanced and bursting with flavor these fruits blend together for just the right amount of sweetness and tartness.
Ingredients
3 cups frozen berry medley
1 cup pineapple juice
1 cup vanilla yogurt
Instructions
In a blender add frozen berries. Pour pineapple juice over the top and scoop in yogurt.
Blend ingredients together until a smooth consistency is reached.
Transfer smoothies into cups and enjoy!
Notes
Substitute yogurt for greek yogurt for higher protein and lower sugar content. Our favorite brand of greet yogurt is Two Good.
Recommended Products
As an Amazon Associate and member of other affiliate programs, I earn from qualifying purchases.
Nutrition Information:
Yield:

4
Serving Size:

1
Amount Per Serving:
Calories:

117
Total Fat:

2g
Saturated Fat:

1g
Trans Fat:

0g
Unsaturated Fat:

1g
Cholesterol:

3mg
Sodium:

42mg
Carbohydrates:

23g
Fiber:

6g
Sugar:

14g
Protein:

4g