With sautéed onions, robust tomato flavor, aromatic herbs and chunks of tender ground beef this savory Spaghetti Meat Sauce is packed with flavor. A classic Italian inspired sauce like this is perfect for serving over lasagna, spaghetti, fresh pasta and so much more.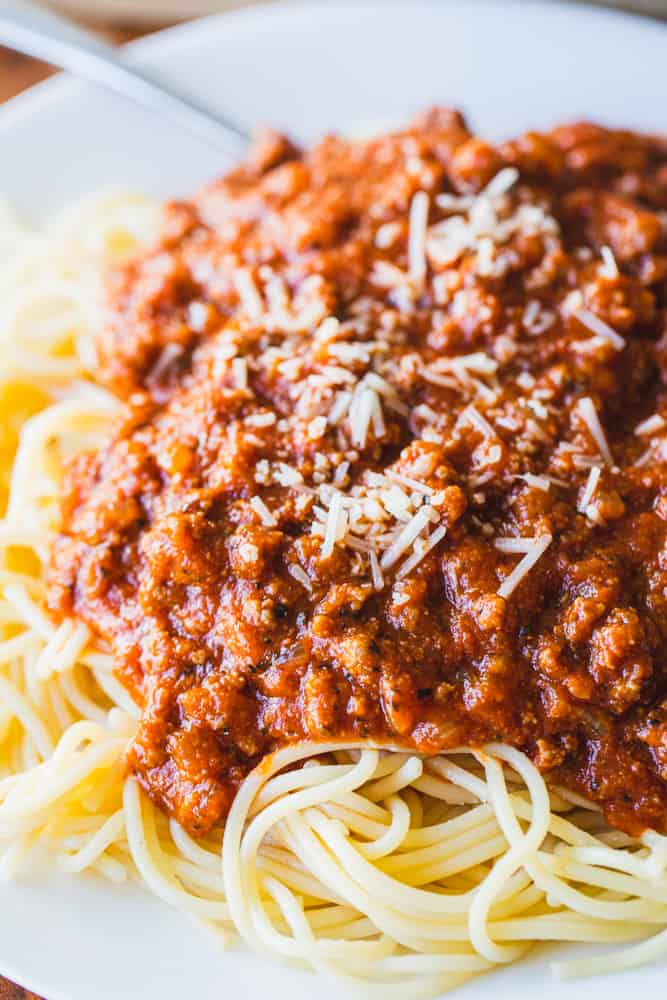 In other words, you can forget about canned or jarred spaghetti sauce from the store! Because this recipe makes it so easy to pull together a thick and hearty sauce using canned tomatoes and dried spices. This rich and meaty sauce will be perfect for your next pasta night!
If you are a lover of all things Italian and looking for more ways to add pasta and delicious sauces like our homemade fresh Pesto to your life you must try this homemade spaghetti meat sauce with our Zucchini and Pesto Lasagna. Go ahead, add this one to your weekly menu and thank me later!
Jump to:
🥘 Ingredients
We like to keep our spaghetti meat sauce fairly uncomplicated. All you need for a truly delicious saucy ragù is some ground beef, an onion, parmesan cheese and a handful of pantry staples!
Butter
Onion
Ground Beef
Dried Basil
Oregano
Salt and Pepper
Garlic Powder
Tomato Sauce
Tomato Paste
Parmesan Cheese
With a handful of ingredients it sure is easy to pull together a warm and comforting weeknight meal the whole family will love.
🍳 Step-by-Step Instructions
Firstly, in a large pot, like our favorite Dutch Oven Pot, sauté your chopped onion and butter. Once the onion is fragrant and translucent add the uncooked hamburger to the pot. Secondly, you want to cook the meat until browned and fully cooked.
As soon as that is cooked go ahead and add the tomato sauce and paste, oregano, basil, garlic, salt, pepper and parmesan to the pot. Afterwards, stir everything together and cover the pot. Now, turn your heat to low and allow your spaghetti meat sauce to simmer for 20 minutes or so.
When that is all done simmering go ahead and add your water to the pot. (Leftover pasta water is best if you have it! See note about that below.) Lastly, give your sauce one more good stir to combine.
Spoon this rich spaghetti meat sauce over a bowl of freshly made pasta for an easy and quick weeknight meal. Of course, you can also serve it as a dipping sauce with thick slices of our favorite homemade bread or super soft dinner rolls for an easy comfort food fix!
👩🏻‍🍳 Make it Your Own
There are lots of ways to jazz up your zesty spaghetti meat sauce but here are a few tried and true options if you are looking for some extra pizazz!
Extra Virgin Olive Oil drizzled in to your sauce will add an authentic and rich infusion of flavor.
Freshly Minced Garlic subbed out for garlic powder adds more depth.
Chili Pepper Flakes will add extra heat.
Crushed Tomatoes for more authentic tomato goodness.
Cream or butter for richness and a velvety sauce.
Meat Variations could include Hot Sausage, Veal, Italian Sausage or Ground Turkey.
Pasta water leftover from cooking the pasta, also known as cooking water adds natural starch which will really enrich the sauce. It also helps the sauce stick to the pasta and is a great way to thin out the sauce if a little thicker than you generally like it. I'm not talking about adding a lot – just a ¼ cup to ½ cup will do!
💭 Top Tips
The Lodge Enameled Dutch Oven Pot is by far our favorite pot when it comes to cooking just about anything! It provides all the benefits of working with cast iron cooking but offers super easy and simple cleanup.
All things considered, it is the perfect pot for simmering sauces like this spaghetti meat sauce, which is why we totally recommend checking it out. Particularly, we also love using it when making some of our other favorites like French Dip Sandwiches or making soups like Zuppa Toscana.
🍽 Storing
Leftover spaghetti meat sauce can be stored in a glass mason jar in the fridge for up to 5 to 10 days. Most important, if frozen - spaghetti sauce can last for 6 months! Without a doubt, that makes this recipe perfect for doubling and saving for later!
📋 FAQ's
Can I make spaghetti sauce without meat?

Absolutely! If wanting to prepare a meatless spaghetti sauce you can definitely leave it out. Instead of meat try adding in other vegetables like mushrooms or chopped peppers for extra flavor and texture.
Should you allow your sauce to simmer?

When you have the extra time to allow your spaghetti meat sauce to simmer you should absolutely go for it! Simmering on a low heat will allow the flavors in your sauce to further develop and marry together. The longer the sauce simmers the yummier it gets! In fact, this is a great dish to prepare ahead of time and freeze. Then when you are ready to enjoy it add it while frozen into a slow cooker and allow it to simmer on low heat for a delicious and easy week night dinner.
Can you freeze spaghetti sauce?

This is a great dish to prepare ahead of time or even double and freeze for later! You will want to be sure the sauce is cooled before placing in freezer safe containers. I personally like to portion my leftover spaghetti meat sauce into ziplock bags for easy storing and reheating.
What is the best way to cook pasta for serving with spaghetti sauce?

The first step to making flavorful pasta is salting the water when cooking it! I'm talking like 1-2 tablespoons of salt for every 4 or 5 quarts of water. (Usually you will use about 4 quarts to cook a pound of pasta.) Add the pasta to the water after it comes to a boil. Cook pasta, stirring occasionally until it reaches al dente. Serve with your favorite sauce and enjoy!
📖 Recipe
Spaghetti Sauce
Robust tomato flavor, sautéed onions, aromatic herbs and chunks of tender ground beef make this the perfect spaghetti sauce for serving over lasagna, spaghetti or fresh pasta.
Ingredients
2 tablespoons butter
1 medium onion (chopped)
1 pound hamburger
30 ounces tomato sauce
6 ounces tomato paste
1 teaspoon oregano
1 tablespoon dried basil
2 teaspoons garlic powder
1 teaspoon salt
1 teaspoon pepper
1 cup shredded parmesan cheese
½ cup water
Instructions
In large pot sauté chopped onion and butter till onion becomes translucent.
Add uncooked hamburger to onions and brown till fully cooked.
Add tomato sauce, tomato paste, oregano, basil, garlic, salt, pepper and parmesan to meat mixture and stir till combined.
Cover pot and allow to simmer over low to medium heat for 20 minutes.
Once done simmering add water and stir to combine.
Serve sauce over pasta or in baked dish and enjoy!
Nutrition Information:
Yield:

8
Serving Size:

1
Amount Per Serving:
Calories:

257
Total Fat:

13g
Saturated Fat:

6g
Trans Fat:

0g
Unsaturated Fat:

5g
Cholesterol:

45mg
Sodium:

1214mg
Carbohydrates:

23g
Fiber:

3g
Sugar:

7g
Protein:

15g