This Orange Julius Copycat Smoothie Recipe is easy, creamy, and delicious. An Orange Julius is made in the blender in less than 5 minutes and is the perfect summer dessert.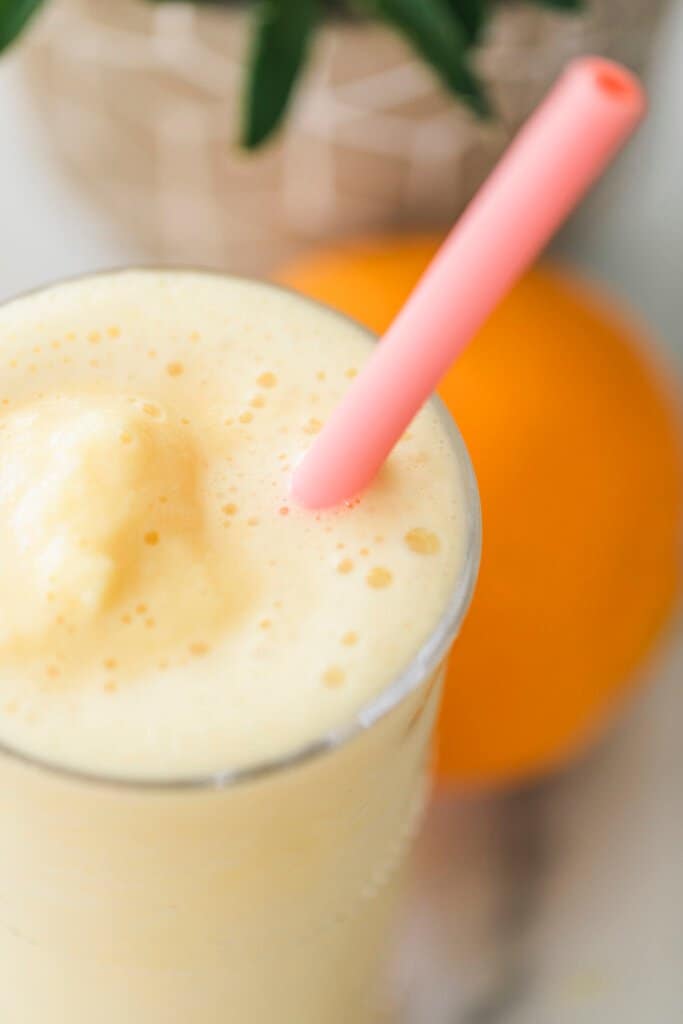 What is even better is that this smoothie is made with only six ingredients (two of which are ice and water) and makes a great treat after a long day in the sun.
Jump to:
A Family Favorite Treat
Last week while visiting my Grandma's house she pulled out all of her cookbooks for me to look over. I found an old, "Favorite Haymond Recipes" booklet, (Haymond is my Grandma's maiden name).
Right there, on the first page, next to my great grandma's dinner roll recipe was "Maryan's Orange Julius." It was sweet to know that generations of my ancestors have enjoyed these Orange Julius' since before I was born. This recipe truly does stand the test of time.
So many memories of summers past came flooding to me. I grew up visiting my sweet Grandma in Montana for a few weeks each summer. This very recipe was my favorite dessert she would make.
I always thought it was our special treat. Something she would make just for me. It was funny to find out years later that all of my cousins thought the same thing! 🙂
Ingredients for Orange Julius Smoothies
With so few ingredients it really doesn't get much simpler than this delicious frozen treat right here. All you need is small handful of ingredients and 5 minutes and you are well on your way to a tropical drink paradise!
Granulated Sugar: White sugar is the best to use in this recipe. Keep things simple. Sugar substitutions (such as stevia or organic varieties) would likely work well, but I have not tested them.
Orange Juice Concentrate: This recipe calls for a 16 ounce tube/container of orange juice concentrate. Make sure this is frozen before using (otherwise your Orange Julius will be too watery). It is also fun to switch up the concentrate flavor. Any other juice concentrate works really well with this recipe.
Vanilla: Orange Julius' have a simple homemade flavor that is uncomplicated but so, so tempting. Vanilla is a key component in this. Artificial vanilla will definitely get the job done if you are not picky ... but if you are ... and I am ... the flavor pay off of real vanilla is worth every cent.
Milk: Let's not pretend to think skim milk tastes as good as whole. For the creamiest and best tasting Orange Julius, don't skimp with skim. I usually don't have whole milk on hand, however, and can confidently say that 2% milk makes a great Orange Julius.
Ice: The amount of ice you use in this recipe will determine the thickness of your Orange Julius. I actually use double the amount of ice that my grandma recommends. I like my Orange Julius to be thick, more like a shake, so this recipe calls for a bit more ice than you may see in other recipes.
Water: Nothing much to say here...for a creamier Orange Julius you could opt for another cup of milk instead of a cup of water.
How to Make Orange Julius Smoothies
The instructions are just as simple as the ingredient list. This recipe really is as fool proof as they come. Which does make this the perfect recipe to let any young kiddos or aspiring future chefs help out with.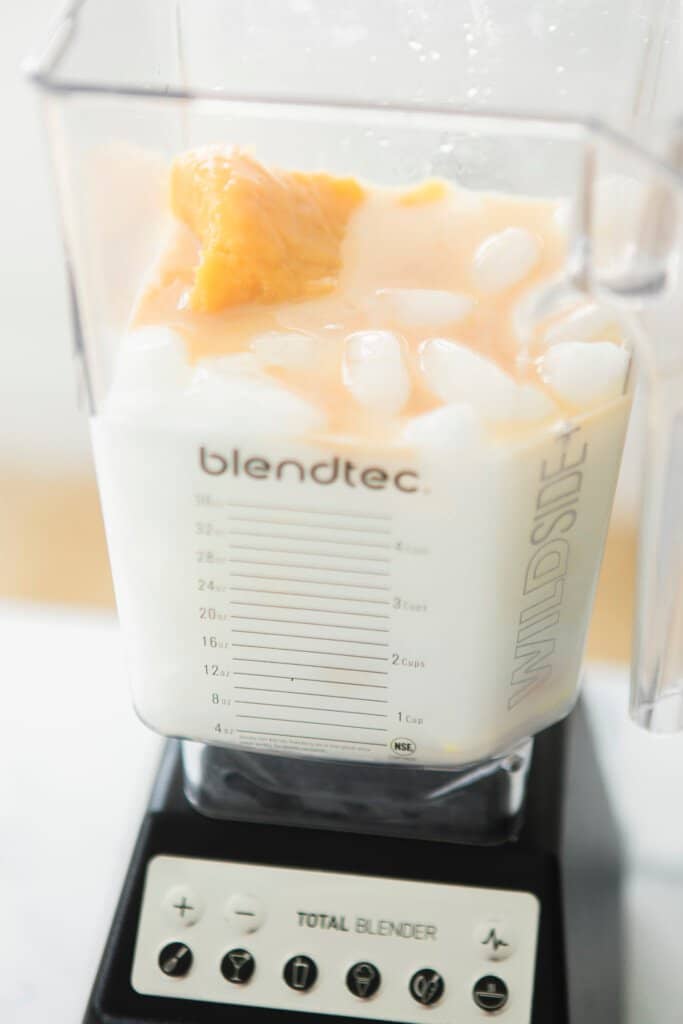 First you will want to add your ingredients into a blender. We use a Blendtec and absolutely love it! Blend everything together on high until contents are perfectly smooth. Serve immediately and enjoy! SO SO SO SO SO SO GOOOOOOOD!!!!
Spring and Summer Smoothie Recipes
We absolutely love enjoying this sweet and creamy smoothie anytime of the year! In fact we enjoy smoothies 4 or 5 days out of the week. We breakout our favorite smoothie recipes not only for breakfast or brunch but also for a mid afternoon snack or light lunch!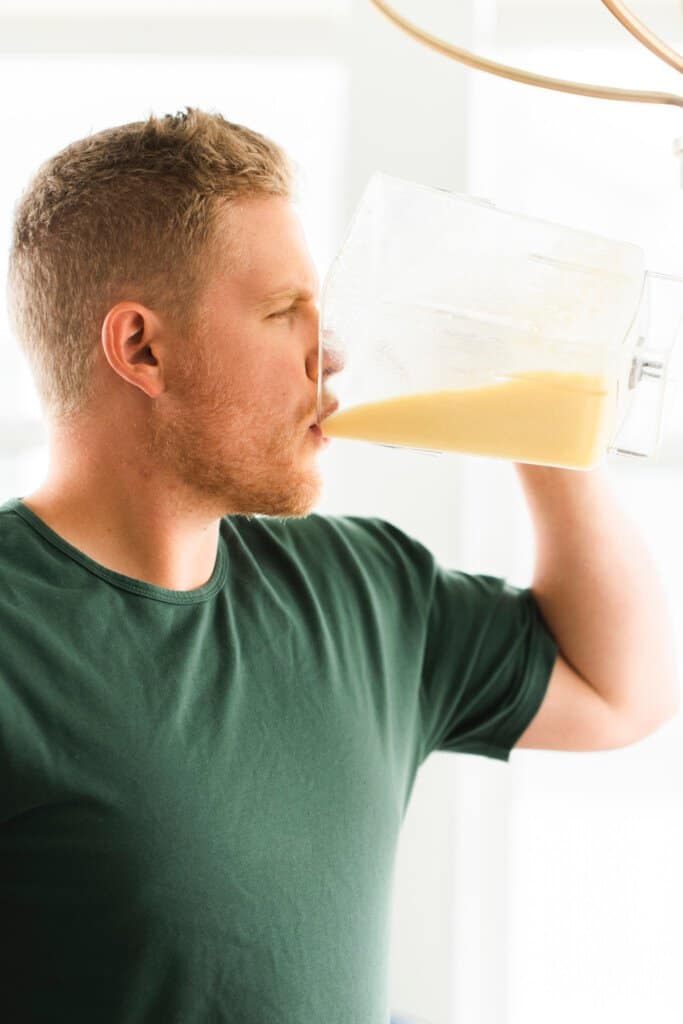 So if you ever want to mix things up a bit and add a new smoothie to the menu definitely give some of our other favorite smoothies like Watermelon Chia smoothie, the BEST Green smoothie or our Cold Buster tropical smoothie a try!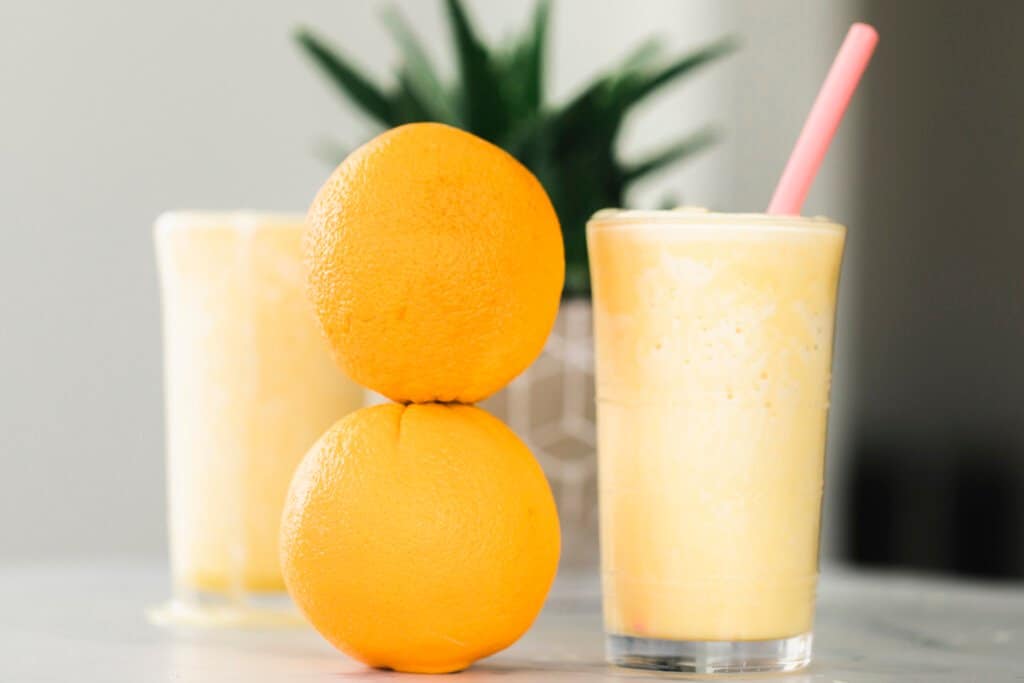 📖 Recipe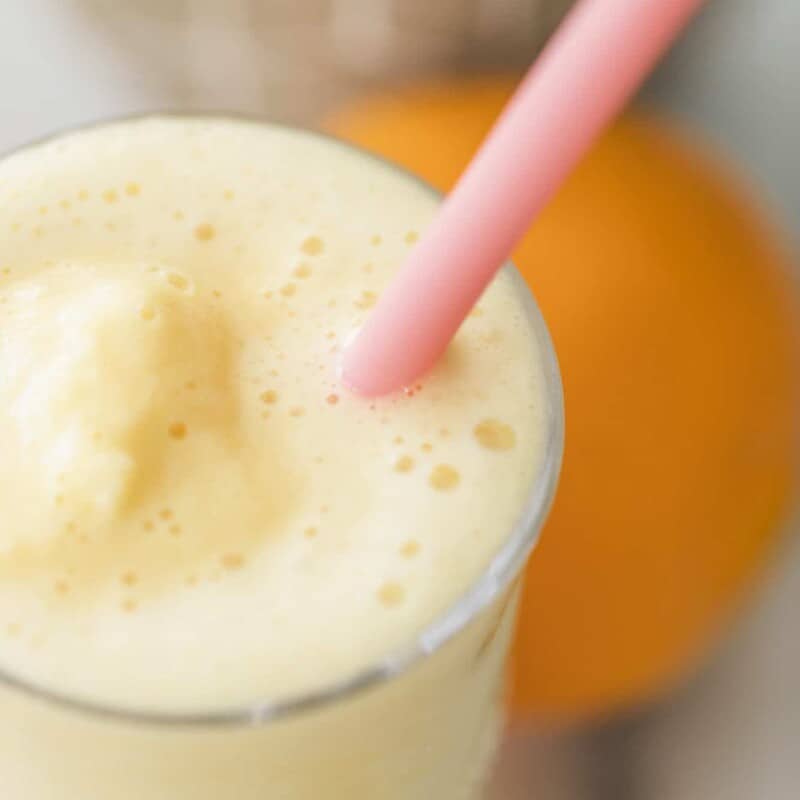 Orange Julius Copycat Smoothie
Orange Julius Smoothies are easy, creamy, and delicious – the perfect summer time treat for beating that heat. Less than 5 minutes to prepare and only 4 ingredients!
Ingredients
16 oz frozen orange juice concentrate
1 cup milk
½ cup sugar
1 teaspoon vanilla
2½ cups of ice
1 cup water
Instructions
Add all ingredients to blender.
Blend on high until smooth.
Pour into glass for serving immediately and enjoy!
Notes
Try switching up the concentrate flavor, any other juice concentrate will work really well. Have fun with it!
We suggest using 2% or whole milk for optimal flavor. But you can switch it up and use Almond or Soy Milk too.
Add less ice for a thinner consistency.
Nutrition Information:
Yield:

4
Serving Size:

1
Amount Per Serving:
Calories:

326
Total Fat:

2g
Saturated Fat:

1g
Trans Fat:

0g
Unsaturated Fat:

1g
Cholesterol:

5mg
Sodium:

46mg
Carbohydrates:

75g
Fiber:

1g
Sugar:

67g
Protein:

5g