German or Dutch Baby Pancakes make for a simple, quick hot breakfast … or lunch or dinner. If I'm honest, we eat them all the time. They are our go to last minute meal plan. 5 ingredients, 30 minutes and so, so, so delicious. I mean what is better than a baked pancake with tall, crispy edges and a tender, custardy bottom?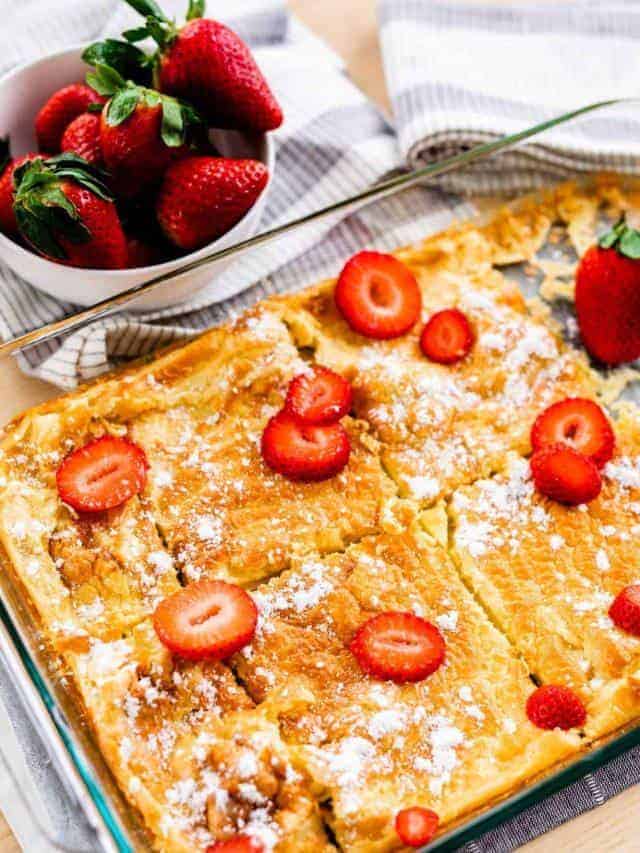 The German Pancake sometimes called a "Dutch Baby" is really just one big, giant pancake. These baked pancakes are a literal masterpiece. Everyone is sure to drool over them and ask for seconds. German or Dutch Baby pancakes are especially great for serving on holiday mornings or for a weekend brunch.
If you are looking for other brunch inspiration you've got to check out our favorite Buttermilk Waffles, Sheet Pan Breakfast Pizza or yummy Bran Muffins!
Jump to:
🥘 Ingredients
🍳 Step-by-Step Instructions
Blend or
Whisk Eggs
Firstly, use a blender or hand mixer to mix your eggs. You will know the eggs are ready as soon as the yolks and whites have been combined. At this point the egg mixture will appear bright yellow or lemon colored. Then add milk your salt and vanilla to the blender.
Measure Flour
Secondly, add your flour to the blender and mix till smooth. The first thing to remember here is to measure your flour properly. There is a right and wrong way to measure flour.
I grew up grabbing a measuring cup, sticking it in the flour container then scooping out what I needed and leveling off the top. But this is NOT the right way to measure flour.
Measuring that way can totally ruin a recipe. Scooping flour directly from the container compacts it into the measuring cup ultimately giving you more flour than was originally intended.
The proper technique for measuring flour is to place your measuring cup on a flat surface. Using a smaller measuring cup or spoon, fill the measuring cup with small scoops or spoonfuls till full. Gently level off the measuring cup.
For more exact measurements the most pro of chefs measure flour by weight for an exact amount every single time. Once you have the flour measured mix the batter together in the blender till smooth.
Prepare the Pan
Then once the batter is ready it is time to prepare the pan. Firstly, melt that butter in the microwave.
The butter needs to be HOT when the batter goes in, so let it go for at least a minute. This helps the pancake to rise properly before the flour has a chance to weigh it all down.
So after hot and melty, add butter to the pan tilting it all around to make sure the bottom is nice and coated. After that there should be extra butter in the bottom of the pan. Do not discard!
In particular this butter is super important for cooking the center of the German or Dutch Baby Pancakes. The steam created from the butter and eggs heating up is what gives your pancake everything it needs to rise up and get all puffy.
Prepare the Oven
Being sure to NOT preheat the oven, place the casserole dish in a cold oven. This is key for an even cook and for giving time for the pancake to rise. If the oven is pre-heated, the edges will cook quicker and as a result the center will not have as much opportunity to rise and get fluffy.
So be sure to leave the oven off until ready to put the pan on the rack. Then place it in the middle of the oven.
Bake the Pancakes
After placing in the oven let the pancakes bake for 30 minutes. When you open the oven they will be tall and fluffy. After pulling from the oven they pancakes will fall or deflate. Don't worry that is exactly what they are supposed to do!
🍽 How to Serve
There are many ways to dress up this decadent breakfast treat. If you are able to exercise a little extra self control, try sprinkling with powdered sugar and serve the traditional way with Meyer lemon juice.
Or you can try it my favorite way, slathered in Costco's berry syrup. And if neither of those is striking your fancy give Dallin's way a try, dressed in peanut butter and maple syrup.
I've also seen others enjoy it with fresh fruit, nutella, butter, or sprinkled with cinnamon. Above all, truly the best advice I can give you, is just to follow your heart and ENJOY!
🥗 Side Dishes
One of our favorite things to make alongside German Pancakes are smoothies! Smoothies like our best ever Green Smoothie are a great way to add in some fruit and greens.
Some of our other favorites would be our Peanut Butter Banana Smoothie, Watermelon Chia smoothie and delicious Orange Mango smoothie.
📋  FAQ's
Can you substitute whole wheat flour for white flour?

I've tried this before and it isn't a good idea. All I can say is that weird things happen. Traditionally whole wheat flour makes much denser baked goods. A dense baked pancake is no bueno. Especially a dense German Pancake.

It pretty much defies the entire purpose of what you are trying to achieve here with your baked breakfast. If you are set on only using whole wheat flour, this may not be the recipe for you.
Can I substitute butter for cooking spray?

No, No, NO! The butter is crucial here. It is doing way more than just creating a non-stick environment for your baked pancake.

The hot melted butter assists in the lift process for this dish. Do not skip this step. I repeat. DO NOT skip the butter, you will be sad if you do.
Why is it called German Pancakes?

It is the Americanized version of the German Apfelpfannkuchen. It would also be in the same family as a Yorkshire pudding or popover. So where did this dish get it's nickname? Is it a German dish or not? The name "Dutch Baby" actually came about by mistake.

These pancakes were originally served in a diner in Seattle in the early 1900s. The owner's daughter struggled to pronounce Deutsch, (the German word for German) and instead pronounced it Dutch.

Both her father and customers thought it was adorable and the name just kind of stuck. So whether you know these pancakes as German or Dutch Baby, I think we can all agree, this dish is a gift from the gods.
How are German Pancakes different than American Pancakes?

German pancakes use a whole lot more eggs and no added leavening agent. German Pancakes are also baked in the oven to a golden perfection. Whereas the traditional American pancake uses baking soda or powder to help it fluff up and is cooked on a hot stovetop or grill and is much fluffier when done.
📖 Recipe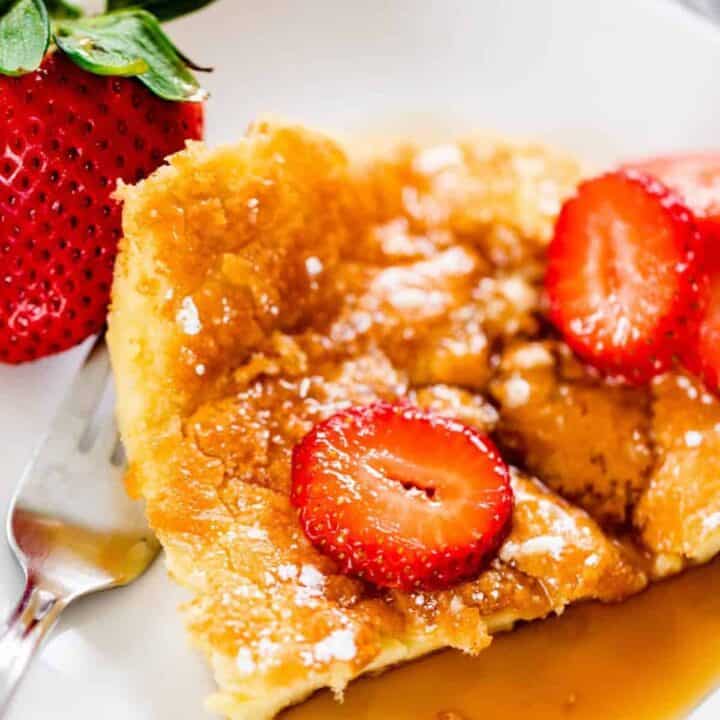 German Pancakes (Dutch Baby Pancakes)
Bake in the oven for breakfast, brunch or dinner, these golden brown pancakes are hot and puffy on top with a yummy custardy bottom.
Ingredients
7 eggs
1 cup spooned flour
1 cup whole milk 
1 teaspoon salt
1 teaspoon vanilla
3 tablespoons butter
Instructions
Add eggs, flour, milk, salt and vanilla in blender. Mix until well combined. *see note about measuring flour properly
Melt butter in microwave and when hot pour into the 9x13 casserole dish. Making sure to coat both bottom and edges.
Immediately pour batter into the casserole dish with butter and place on the middle rack of a cold oven.
Close oven and set temperature to 375° and bake for 30 minutes. **see note about avoiding preheat of oven
Serve while hot with dusted powdered sugar and lemon juice or whipped cream, fresh fruit and syrup.

Notes
Instead of scooping flour out of the container or bag with a measuring cup, (so that it becomes slightly compacted) spoon flour into the measuring cup till filled to ensure a more accurate measurement.
Whole milk is preferred but not necessary if not on hand. Any variety will work.
DO NOT preheat the oven. Placing the casserole dish in a cold oven allows the edges and center of the pancakes to cook a little more evenly. If oven is preheated, edges will cook quicker and the center does not have as much opportunity to rise and get fluffy.
Do not be alarmed if pancakes seem to grow while in the oven. It will inflate significantly while baking and then immediately "wilt" after pulling out of the oven. It is supposed to do this.

Nutrition Information:
Yield:

8
Serving Size:

1
Amount Per Serving:
Calories:

178
Total Fat:

10g
Saturated Fat:

5g
Trans Fat:

0g
Unsaturated Fat:

4g
Cholesterol:

177mg
Sodium:

374mg
Carbohydrates:

14g
Fiber:

0g
Sugar:

2g
Protein:

8g